3d model of the dymaxion car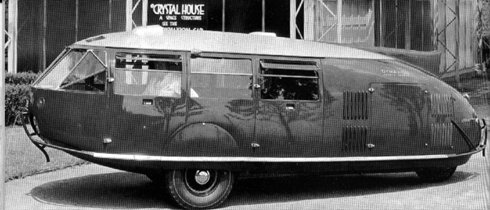 For those that haven't heard of it, the Dymaxion Car was a teardrop-shaped (least air resistance), 3-wheeled, rear-wheel (single) steering, 20 foot long, Aluminum bodied auto, designed by Buckminster Fuller in 1933 to achieve maximum output and service with minimum material input. It was about 6 feet tall (kinda like a big van), seated the driver and 10 passengers, weighed around 1600 lbs., went 120 miles/hr on a 90 horsepower engine, and got as much as 30 miles to the gallon of gas. Fuller referred to it as the "Dymaxion Car", "Dymaxion Vehicle", and "Omni-Medium Transport" since it was ultimately intended to go by land, water, or sky. Only three were ever built.
Since i will probably never be inside one in real life, and certainly never drive one, i would really like to do the next best thing: model it in 3D and simulate driving it. There are scattered bits of information about the car, in print and on the web, but i haven't found a complete history, so i attempt to compile one below.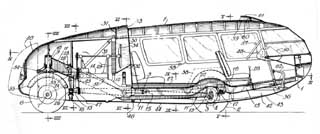 A biographer said "Bucky [...] took the idea of demonstrating what you are talking about very seriously. He said if you can't make a model of it, don't talk about it."
| | |
| --- | --- |
| I have a printed copy of the original patent for the car, which has diagrams like the one to the right, from the out-of-print book "Inventions: The Patented Works of Buckminster Fuller". It includes top, side and front views, so there should be enough information to model at least the external body. | |
I haven't found anyone who's ever attempted this, which means i'll probably have to do it myself. Do you have any information that would help?

Notes
Other notes on the car:
dymaxion Car #2 is at the National Automobile Museum in Reno, NV

however, they don't let you see the interior, claiming "it was never finished"
according to J. Baldwin, Car#2 was at one point: "Used as a chicken coop somewhere in the Midwest. This completely rotten the wood, vinyl, and formica interior. This, as you may have guessed, explains why the interior of the car is not viewable at the museum! No pictures were ever found showing the interior of the car, so the museum had no guide by which to reconstruct it. (looked through thousands of pictures in Fuller's archive looking for a shot of the interior, but couldn't find one.) Eventually it was found and sold to Harrah's for $90,000."

A quicktime movie (2.3 MB) of the car driving and unloading passengers.
The Buckminster Fuller Institute (BFI) website now has the text (and very rough figures) of the car patent. I scanned some higher-resolution patent figures.
Joe Moore's Buckminster Fuller Virtual Institute has a link page for the vehicle.
Some info is in WoodenBoat Magazine (!) from a few years back, and the connection is that its a bio about W. Starling Burgess, the naval architect/genius who collaborated with Bucky on the Car.
Fuller tested 22 different kinds of steering posts. The car always had a problem with shuddering from side to side, especially in wind, and he had been working on different ways to fix the problem.
When Fuller had the car, he rolled it with his family in it. They were injured but recovered--the car had seatbelts. Because of this accident, it was modified, and there are pictures of it with different detailing. These are sometimes mistaken for pictures of different cars.
Dymaxion page at 3wheelers.com
Dymaxion passengers is a large site with lots of pictures, notes and chronology of the car, by Michael John Gorman.
2009-09-19: synchronofile reports The Dymaxion Car is being restored by the company Crosthwaite and Gardiner, which causes some discussion on Slashdot: Dymaxion Car Being Restored
Modelling the Car
"As for the patent drawings, there are several drawings, but none of them reflect the car as built. J. Baldwin says the same is true of the Dymaxion house (which he took apart to have it moved to a museum in Michigan) -- the patent drawings differed from the blueprints, and both of these differed from the actual construction."
I looked at using programs for creating 3D models from photographs

I tried a demo of 3D Builder, and went through the tutorials.
It is a very slow, painstaking process, even when your model is constructed of straight lines.
It would almost certainly be easier to just model it "from scratch" in an actual 3D modelling package.

Feb. 1999 took a stab at modelling the tires and shell in 3D Studio MAX
Possibly in 2012, "Dymaxion Car by Nigel Fitton" appeared on the google/sketchup 3D warehouse, in sketchup format.


Related Cars
In the 1940's, a couple of guys in British Columbia made a car strongly similar to the Dymaxion, but with 4 wheels.

Notes from 1986 World's Fair (Expo '86) in Vancouver, B.C. :"Aerocar" - designed and built by H. B. Oldfield and J. H. Norton, Victoria, B.C., 1940 - 1942. aka Bazil (Barney) Oldfield. Loaned to Fair by Mr. Robert Oldfield. License plate on car: Vintage 2086, "Spirit of Tomorrow".

"It's a very beautiful job of a Dymaxion knock-off, but with four wheels. From the front it's very similar, and the back is surprisingly similar as well"

a similar 3-wheeled car was designed by J. R. Jones

patent filed November 21, 1934 which is one year later than Fuller
used a "leaning thru curves" concept in its chassis design
the patent is available

a 4-wheeled, teardrop-shaped car (patented 1934) by famous industrial designer Norman Bel Geddes

he also designed a series of other land and air vehicles, all described on the Norman Bel Geddes page on the Stanford Dymaxion site
as far i can tell, none were ever built

the Fascination

in the early 1970s, the 'Highway Aircraft Corporation' of Sidney, Nebraska produced a few 3-wheeled cars which look a lot like the Dymaxion car, except that the single wheel is in front and the back is flared.
anecdotal sources say around 3 were built, and one of them was still around in Nebraska around as of 1998

the Starliner was made by Robert Gougeon of Bay City Michigan in 1935 (not to be confused with the unrelated Ford Starliner)
there are very few other cars that put the front seat before front wheels, such as the 1960 Fiat 600 Multipla
Thanks to help from many people, including these: