Trip to Romania, Summer 2004, part1
Saturday, June 19
Red-eye flight to Paris. No sleep. Dawn breaks as we fly over some pretty French countryside
Sunday, June 20
7AM, Paris, in the awful Charles de Gaulle airport. A part of this hyper-modernist airport collapsed recently, killing several people. The terminals are numbered and connected so poorly, it's nearly sadistic. When i arrive, there is a bomb scare. An entire terminal is evacuated..

but finally it reopens just in time for me to catch a very small plane to fly to Romania. In lieu of bringing Deb with me on this trip, i have brought her penguin.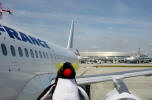 Finally, Romania. Still no sleep, and an hour late arriving. Stefan and Vasile meet me at the airport, so great to see them again!

They take me over to my hotel (part of the University..) then out for food. I swear that this unusual salad contains both apples and beef. Penguin checks it out.

That evening they take me over to something called "La Motoare" which is a kind of giant, open-air restaurant/club on the roof of the National Theatre, way hip and mobbed with young people. I drink an entire bottle of Grasa de Cotnari (yum!!) after which the funky jazz band sounds really good. A wobbly walk back to my hotel, late.
Monday, June 21
In the morning, Vasile comes over to meet me. Walking through the city i discover something called a gogoasa (plural gogosi) which is basically a big Romanian donut. I love donuts, and these are great! How did i miss finding them before now? Vasile takes me over to his office at the INMH, the Institute of Meteorology. It's been renovated since i was there the year before. I meet his officemates and we have a great time geeking out with terrain and GIS stuff. We play with some NaturalVue satellite imagery of eastern Europe that i brought, and make a flyover of Vasile's hometown, Campulung Moldovenesc.
Later we head over the geography lab at the University to meet up with Stefan and his crew. We hang out, then they take me out for late lunch. The following item was referred to as rouluri ardeleni, basically "Transylvanian rolls." They contain chicken, and cheese, many other ingredients, all wrapped up, then deep-fried and garnished with sauces. Really delicious.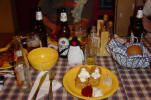 Tuesday, June 22
In the early morning, an adventure begins. The idea is that a geography student, Florin, will drive us in his car on a one-day trip. Florin, Stefan, Vasile and myself, will drive south-west with a GPS device, measuring roadways and especially points of interest.

From Bucuresti, the next major city is Alexandria, in the Teleorman county. As always, driving in Romania is interesting: no seat belts, high speeds, unreliable cars, unpredictable horsecarts on the highways. The ones below are not your usual farmer's carts, but an actual genuine Gypsy caravan.
We have a nice stop in Alexandria, GPS measuring features like churches and banks. The penguin helps us.
Our Dacia breaks down a couple times, completely as expected. The first time, Florin solves the problem by pouring mineral water on the motor and brakes!
Then on to Turnu Magarele. I think these giant city signs are some kind of Communist legacy:
In the town, there was a wonderful park in the center and a church with interesting "twisted" spires. We GPS it all.
My attention is drawn to a beautiful tree in the park. When i brought these pictures back much later and showed them to people to identify the tree, i was amazed to learn that this is a Catalpa, a tree native to the southern USA! I saw it thriving in parks in both southern and northern Romania.
Then further out to Dunarea (the Danube). Here, the river forms the national boundary, so across on the southern bank is Bulgaria. When we get to the river, some guy is yelling at me about taking photographs, so i just get back in the car and keep taking pictures :) The terrain is more interesting on the Bulgarian side, with limestone cliffs instead of the flat plains of the Romanian side.
..then off the main road onto dirt trails along diguri (dikes) to the river Olt. There, the guys get out and actually swim in the river. I only got in up to my feet. Around us, the countryside: horsecarts, shepherds with their flocks of sheep, bright wildflowers.

The car dies on the way back, along incredibly lumpy roads, but limps into Florin's home in Alexandria. We have a wonderful dinner, a kind of "Romanian BBQ", starting with ciorba de burta, the fattiest soup ever invented, literally "belly soup":

then moving onto mititei, even better than the yummy ones back in Queens. Then, drinking. The tuica is clear and hard, so i mix it with orange Fanta. When they see i'm not drinking much, they ask why, i reply i prefer drinks a little sweeter.. so they bring me a whole bottle of wine, demi-dulce, yum. Finally, stuffed, we drive back to Bucuresti and drop me at my hotel.